Naomi Replansky was born in the Bronx in 1918 and for many years has resided in Manhattan with her life-partner, scholar and writer Eva Kollisch. Naomi's first book, Ring Song, published in 1952 by Scribners, was nominated for a National Book Award and is now a collector's item. A chapbook published by Gingko Press in 1988, Twenty-One Poems, Old and New, eludes even collectors. She is also known for her translations of poetry from German and French. Her most recent book, The Dangerous World: New and Selected Poems, 1934-1994, was published in 1994 by Another Chicago Press, which is now defunct. You can still order The Dangerous World — just write to me c/o the WebMs. for details.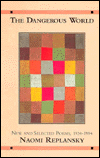 Naomi is a dear, dear friend who sat with me through a year of chemotherapy treatments. From her I have learned the simplicity, the humility, the dignity of artistic dedication. When I used to visit with her in her small old brownstone apartment in the 70s on the upper West Side of New York City, I would see in the tiny bedroom, one sheet of paper centered on the surface of her wooden writing desk. One poem, quietly awaiting her return, one poem for many months. During our tea and halvah, Naomi would recite from memory the poems she loved, a lifetime of listening. Over the years I have learned that Naomi lives with poems as if they are old friends.
In The Dangerous World, Naomi writes of the Depression years, of the Holocaust, of the homeless, of love and jealousy and loneliness and longing, of factory work, of aging, of dreams and of the city, of the poet's passion for language and song. As it says on the book cover: "...[A]fter four decades, the poet returns to print. The years have not mellowed her. In shatteringly clear, sometimes tender verse, Replansky charts her 75-year sojourn through the wildernesses of the city and the heart."
Just one more story — how we first met. When the Archives was still housed in my apartment, two older women came by for a tour on a visitors' night. I paused in front of the poetry section to give my talk about how much we wanted to have a full collection of published and self-published works and manuscripts of lesbian poets. One of the women said that she had written two lesbian love poems that had been published in an anthology of American women poets in the 1930s, but she had never seen it. And there, right under my hand in the Archives' collection, was that anthology edited by Tooni Gordi; that night in the 1980s, I reunited Naomi Replansky with two of her early poems.
From Booklist: "In 1952 Replansky's first book, Ring Song, stunned critics with the clarity of the young poet's language. Despite the vitality of her ideas and the freshness of her words, she was, however, blasted for her cynicism. Fortunately for those tender-spirited reviewers but unfortunately for poetry readers, she didn't publish another book (with the exception of a chapbook) until now. Here in the 1990s, when a poet might be criticized for his or her lack of cynicism, Replansky has found her place. With timeless grace, she sets each poem simmering with powerful phrasing and universal experience.... Replansky brings us ageless work in a collection that should not be missed."
I asked Naomi if I could put two of her poems on my site and she said yes, so here they are:
IN THE WOODS

They walked in the world together
And came to the end of play.
Each of them clung to the other
And each pushed the other away.

That forest was not so scary,
And two should be warmer than one.
But each was so scared for the other
They shivered in spite of the sun.

And each so resembled the other,
Fear saw only its twin.
Neither could harbor the other,
Though skin touched answering skin.


Then they stood and swore at each other
To stop that trembling inside,
Till a chill came forth from their bodies
And the leaves that touched them died.

The birds flew off with the crumbs,
Thunderclouds rolled overhead,
And at last they fled from each other,
In grief and relief they fled.






THE OASIS

I thought I held a fruit cupped in my hand.
Its sweetness burst
And loosed its juice. After long traveling,
After so long a thirst,


I asked myself: Is this a drought-born dream?
It was no dream.

I thought I slipped into a hidden room
Out of harsh light.
In cushioned dark, among rich furnishings,
There I restored my sight.


Such luxury could never be for me!
It was for me.

I thought I touched a mind that fitted mine
As bodies fit,
Angle to curve; and my mind throbbed to feel
The pulsing of that wit.


This comes too late, I said. It can't be true!
But it was true.

I thought the desert ended, and I felt
The fountains leap.
Then gratitude could answer gratitude
Till sleep entwined with sleep.

Despair once cried: No passion's left inside!
It lied. It lied.