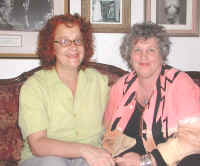 Author-teacher-activist
Joan Nestle, right,
with her life partner, Dianne Otto, a law professor at the University of Melbourne, Australia. Photographed at the Colony Theater, Miami Beach, May 2002.
News Profile
INTERVIEW
On the pulse of herstory with Joan Nestle
By LOANN HALDEN
"The freedom to be sexually expressive, the freedom to be different, is a freedom for all of us. I still say in our difference we must join together. ... I think whatís important for me is not assimilation. Iím someone who believes I choose to be the way I am. I was not born this way. I want civil rights on the basis and dignity of choice. I donít want to be like everyone else. I love making love to women."
Ė Joan Nestle, from the documentary "Hand on the Pulse"
In honor of Gay and Lesbian History Month and National Coming Out Day on Oct. 11, we reflect on the gay movement with a woman who brings incredible "herstory" to her perspective, author-teacher-activist Joan Nestle.
Nearly 30 years ago, a group of women began developing a way to preserve lesbian culture and history for future generations. In 1976, the Lesbian Herstory Archives opened in the pantry of the Upper West Side apartment in New York City that Nestle shared with Deborah Edel.
Today, the Archives Ė obviously no longer stored in Nestleís home Ė is the oldest and largest lesbian collection in the world, housing more than 20,000 volumes, 12,000 photographs, 300 special collections, 1,600 periodical titles, 1,300 organizational and subject files, thousands of feet of film and video footage, art and artifacts, musical records and tapes, posters and T-shirts, buttons and personal memorabilia.
The LHA co-founder didnít just watch over the treasured collection in the early days; her life became an indelible part of the history it was preserving. Her home turned into a womenís salon. She gave book readings dressed in a black slip. Later, she served as grand marshal of New Yorkís Gay and Lesbian Pride Parade. And this year, a documentary on her life, "Hand on the Pulse" by Joyce Warshow, made the film festival rounds.
Thereís a certain disconnect at first between the idea of Nestle and her legendary activism and the woman settling in on a couch in the Colony Theater lobby for an interview Ė but only until the dialogue begins. The air crackles with her intellect, passion and genuine warmth. She may be dressed more conservatively in 2002, but there is no mistaking the reason her friend, Miami Gay and Lesbian Film Festival founder Robert Rosenberg, wanted her on a panel titled "Heroines, Heroes and History" Ė even if she balks a bit at the word "hero."
"I would just say a brave person is someone who risks exile," says Nestle as she contemplates the topic.
"Something that interests me very much is displacements. I was thinking I would really like to see a panel exploring the layered history of Miami, particularly the place South Beach. When I see South Beach, and I see the new facades of South Beach, and Iím told that those very same Art Deco, wonderful buildings were once really residences for working class old people, I think what a film that would be to have the shadows of those people speak to the present-day walkers of South Beach.
"Iím really interested in how we as displaced people play the role in displacements ourselves. So what Iím saying is that I really would look forward to a more complex cultural discussion than weíve had in the first 20 years of our lives as a gay community. Now we are also part of a large cultural discussion that often is questionable."
Nestle says she is often asked about romanticizing life on "the margins," but she has found it to be a creative place to spend time.
"I came out in the criminalized bars and, to me, marginality has been incredibly important," says the author of "A Restricted Country" and "A Fragile Union." "Itís easier to risk exile on the margins because you already are; youíre not so tied into economic systems."
The quote from "Hand on the Pulse" that opens this piece is a shining example of Nestleís fearless ability to discuss her own truth regardless of its popularity within the movement. Although activists frequently rally around the idea that queers are born, not made, Nestle says itís "a really weak political position to say give us our civil rights because we canít help ourselves; we were born this way and therefore our actions and the way we structure our lives is not our responsibility."
"Now, there are many more genders than the two we have, and people are born in all kinds of biological and genetic legacies. For me, my experience of my queerness was a matter of choice and itís on that I base my politics," Nestle says. "Also, my understanding of history as a Jewish woman tells me that biological determinism is a very dangerous argument for peopleís humanity. In fact, it has been used to rob people of their humanity.

Lesbian Herstory Archives co-founder Joan Nestle, right, with filmmaker Joyce Warshow, who captured Nestleís life in the documentary "Hand on the Pulse."

"Whether itís African Americans in the time of slavery, when they measured Africansí skulls to show that they had less volume than whites, or when they measured, during the Nazi period, the thickness of Jewish nostrils, I am uneasy with a genetic argument. The writer in me, I donít find determination interesting, I find choice interesting."
As she evaluates the GLBT movement in 2002, Nestle says she finds herself thinking globally. Expanding understanding and challenges to gender into the international human rights struggle, along with world economic and health issues, take priority.
"Really for me now, as a 62-year-old woman, Iíd say at the center is the requestioning of gender definitions and how that impacts on citizenships of the world. And how it also speaks to all the other disenfranchisements of economics and race," says Nestle, who recently edited a book called "Genderqueer: Voices From Beyond the Sexual Binary."
"Iím really interested in a real global questioning and global partnership Ė of what it means to be a woman, what it means to be genderly different, what does it mean to be poor, what does it mean to be non-white Ė and not as rhetoric, I hope, but as really where our new frontiers lie, way beyond our borders. Though in our own country right now, I would say that the central issue is the rising Ė not the rising, theyíve risen Ė of the right and the role of religion in our own government, cheap moralities of all kinds."
Nestleís relationship with Dianne Otto Ė "I have the best relationship ever, and Iíve had many relationships, honey" Ė can only add fire to her global outlook. At the time of the MGLFF, Nestle had subleased her New York apartment in preparation for relocating to her life partnerís native Australia; Otto is a professor of international human rights law with a specialty on women at the University of Melbourne.
"Iím not only bicoastal, Iím bi-continental," Nestle chuckles. "Sounds like a new dance or something.
"Di was with me this last year [in the U.S.] because I just got re-diagnosed with cancer, and I have breast cancer now," she says. "Her university gave her something called compassionate leave, which is a term our world doesnít even know about, and she strung together all the free time she could possibly have as a college professor and spent this year with me. Now weíre turning it around and Iím going there for two years. What itís raised for me living this way, not as an intellectual thing, but as a gut thing, is the whole problem of immigration and being gay and the injustices for gay people."
Nestle had already had her first run-in with cancer when Warshow presented the idea of capturing her life in documentary form. Trust in the filmmaker and her own mortality staring back at her led her to accept the offer.
"I wanted to honor the women of the Archives and I guess in a way I wanted to put my motherís story in a more permanent place," she says.
"I think the deepest reason was that Iím an oral historian myself for many years, and I didnít know how much longer I was going to live and this was an incredible opportunity. So part of it is kind of vanity, but I knew that thereíd be other lives preserved in the telling other than my own."
Those stories, via the film, now await future generations that will incorporate them into their own unique worldview. Nestle, who was a teacher for 29 years with the SEEK program (initially for black and Puerto Rican students and later all immigrant populations that wouldnít traditionally get accepted into college), says she learned to have great compassion for the ages that end the teens and begin the 20s.
"I feel a cherishing of young bodies, young hopes. I donít think any young people should be made to translate into the language of an older time. I do think that the burden of education is on our shoulders Ė thatís why Iím so grateful to Joyce for making a film about me," she says.
"Each generation has to find its own way into history. One of the things I really feel proud about in my life is that I was part of an incredible community of people who brought into the world such a thing as gay, lesbian, queer history. So when a young person has the urge or the need to turn to historical voices to historical communities, they now exist, there are places Ė they can go to the Archives, they can go to films. That is a gift for the ages."
When she packed up her apartment for the shift to Ottoís side of the world, Nestle made a major deposit with the LHA.
"Iím at a point where letting go seems really important, change seems really important; change feels like a victory because itís so easy to become entrenched at 62 and afraid of risk when you have internal risks," she says.
"Part of the wonder of our relationship is that Iím forced to leave behind everything I know, and this time particularly, because I just packed up all my papers, all my unpublished writings, everything, 28 boxes, photographs, everything, and sent them to the Archives. Now Iím really going with a history ahead of me. My past now is in the communityís hands."
For more information on the LHA, visit www.lesbianherstoryarchives.org.