oriented actress which said: ...It is always important to vote even if you don't get your salary, if you don't find medicine in pharmacies, if you ask yourself whether you will have children or not or you see your children leaving the country...

Outside was an autumn noon sunshine, I walked toward the Center where I work with another friend. We had already filled our rucksacks with leaflets and stickers giving them to friends we encountered on the street. On my way I met an older woman from Bosnia and Herzegovina who lost everything in the war, her brother the florist, her house, her village..... and happened to arrive here in 1992. From that time on she mostly walks around the town, dressed in black, with her palm in a shy posture of one needing help. She is always on the edge of crying and cries for everything emotional, latest news she reads in papers, showing her old shoes.... and every time she starts to cry she then remembers herself from before. As if only in her tears she is connected to her life history, her joy which will never come back. We kissed at the end while she mentioned her rich house of childhood and how she became a poor refugee. I gave her money, which she has such difficulty accepting, and she cried again. I went on walking in the sun thinking how the people around me who are waiting at the tram stop look at a woman who begs and see a beggar, but there is not such a woman as a beggar, there are women who have tragic histories who are poor. And those who embrace them.

In the Center I was on duty today. The Center's full name is Autonomous Women's Center Against Sexual Violence and it is seven years old. Now there are 17 women who work there, doing different things. We are five feminist counselors and today is my day. Four activists were working when I arrived; a few women who wanted support had came earlier and they were already drinking coffee.

First I talked with an old woman I haven't seen before. She was 80. She said she is on her way to her daughter who is in the hospital and did not have anything to bring to her. She showed me the receipt of her social aid that she is entitled to. It said 117 dinars. This makes US$2. Two US dollars. I looked and looked at this piece of paper, and did not cry. She lived all her life in Belgrade and now lives with her son with his little pension. We made sandwiches for her and her daughter in hospital.

The second to talk to me was a young Roma woman. She comes into our Center often. Her whole family lives in a small hut, in one room. She said "the father of my kids got a tuberculosis out of hunger," he was two months in sanatorium and came back before the end of the treatment, he was bored there, and started to abuse her again. The woman talked about her life and at one moment she said ".....you know when I was 15 I was raped by four. ....We were together me and one friend of mine and the car stopped and they were four..." Tears. "I was young, a girl, I was playing happily in front of my house.... at that time my family was rich we had 20 cows... I told them don't do this to me my father will pay you off, and they beat me and beat me because I was screaming... they talked of hymen I did not know what it means...one said 'Give me a knife to cut her' ... four of them ... I am never again the same little girl." She said she does not have food to give to her children. "I buy 6 kilos of bread in the morning and that's it, not a penny more...." At the end she said: "I would kill myself now if I knew that afterwards my children will live in welfare and have to eat and to live by. I can't stand it any more." I did not have time to think about this sentence, I just remembered it and thought this is a deep women's logic, her body a body of nourishment of the others, but before that she would have to die.

The young Roma woman who is a neighbor of hers came to ask for money for the bus. She brought medical papers that show how her son, sick with diabetes, has to go to the hospital and she has to go to different places and has no money for the city transportation. She was young and beautiful and holding her pain inside. Today she did not talk of the violence. She did not have enough to eat. She asked if we will have some humanitarian aid soon. "No" I said, it was like a crack inside her pond of hope, these words of mine.

Today my favorite woman who we support came in. She is roundish and in her fifties, in autumn and winter she wears a few skirts and many blouses on top of each other. They protect her from everything on the streets. She has lived every kind of violence one could possibly think of. She was in prison for homelessness, then in mental hospitals beaten up, electroshocked, straitjacketed, medicalized, numerous times. She has a diagnosis, one child dead after the birth, one given to adoption long time ago. She was beaten and abused by her brothers, sisters, thrown out of every place she's ever been.... and today she is already on the street again for a third day. She is now scared that if she sleeps in the street the police will come and pick her up and send her to the mental asylum. This is what happened the last autumn, and all last winter she was in one of them where they cut her hair to zero and locked her up. She is afraid, and few days ago she met a nice woman she said, where she can sleep but the woman asks 200 dinars for a night. I talked to her to try to find something at a monthly rate, but she is a woman on her own and not many people would like her in their home. She likes to look at a photo of Tito when she comes in the Center. Here he is! she would smile. She remembers her childhood and how she lived together with her parents long time ago and went to Switzerland once. If by some chance she started to laugh, all the space of the Center would be shattered and everyone would laugh herself to tears. Fascist regimes like this one make poverty out of every different woman citizen, isolate them to the bone. At the door she said in a voice which trespasses the history of philosophy: "Don't forget me." Would she feel the aliveness of her being if we were not there the next time?

When I came out of the therapy room, I realized that there was already a drama going on. A woman had come into the Center. Her ex-husband was following her, again, and this time he came in front of the Center. He was told to leave but he was drunk and violent and came to the Center's door on the second floor. My colleagues locked the door and called the police. When I came out of the room I saw him through the peephole in the door standing there and screaming in all his drunken voice: "..... Lepa Mladjenovic... a bitch a lesbian you are all bitches dirty studs... open the door." The six-floor building where our Center is situated, was echoing his words. He kept on screaming for ten minutes, then he went outside the building and continued to curse: bastards bitches lesbians prostitutes! Then one woman neighbour opened her window and started to curse at him, then someone else threw a bottle near him, and finally one man neighbour forced him to go. When the police arrived, he was not there any more, and the woman was safe in our Center.

I left the Center after 5pm and in front of the house I talked to a woman in the kiosk, already there was a story circulating about how we threw the bottle which could hit people walking by..... So I bought cigarettes explaining to a women working there that we support non-violent communication.... Walking down the street I thought of this eternal combination of prostitutes and lesbians, this sweet bonding. From the first text I ever read from Joan Nestle on night bars where they both would meet, it does not change throughout the world. Once one lesbian from Russia said: It is worse to be a lesbian than a prostitute in my country. Was I worrying about this incident or smiling about the sweet bonding?

The meeting I was on had started when I arrived, there were about 20 feminist activists who were making a plan of actions for the next two weeks of activities for the electoral campaign. Some of them I saw in the morning, but many others were there, from at least ten different women's groups. We decided to give out leaflets of women's campaigns on Saturday morning in the market places... The big women's campaign will be on the 16th of September on the streets of Belgrade. It was good creative group work.

Three of us walked out together after the meeting, and started sticking Your Vote — Vote of Difference on the walls until I caught the trolley. I went back to the Center again. But before that I dropped for ten minutes in the Center for Cultural Decontamination. It is a space with the yard and art free of fascism. Two phenomenal women directors run the program. I came in and they were smiling, -What's going on? I said. — We are elaborating what will happen on the 25th? What do you think? People will be on the streets? Police will come to wipe us off? Votes will be stolen from the opposition? The borders will be closed down — this fear is present from 1992! But the Killer? What will happen with him?

In the Center I found my colleagues who had been working since 10am that day. At 8pm every Wednesday, they and I and others have a meeting of the lesbian group Labris. Tonight we were supposed to make more decisions about organizing a Lesbian week in October. It will be a second Lesbian Week for women from the states of Former Yugoslavia. More than 15 lesbians are there. Labris, which we founded in 1995, has been thrown out many times from many places where we had meetings, it still does not have a place of its own, and we are thinking how after we throw out the Killer we will register Labris as an organization and look for a place, finally. In the group, as usual, some of us are feminists, some are not. And like everywhere, those who are active are active all the time, and those who are not, never are. But all want to have parties. Nothing new on the lesbian globe, desire prevails. It is the beginning of September, one of them is showing photos — only few had a chance to go on vacation. Everyone wanted to have "power to the cunt" graphic on the folders for the meeting! (Image of fingers together in a shape of a cunt.) At least for this one detail the consensus was fast and joyous for all. We laughed and talked in many voices at the same time. At the end a friend from Italy told us about lesbians there. She is a lover of a friend of ours. They are very much in love. They are freshly showered and gleaming. The Italian lesbian talked about three Lesbian Weeks they organized in Bologna, and some problems they had in the process. About lesbian separatists and those from the mixed groups and how they tried to work together.... Everyone was silent all of a sudden listening to her; it was a piece of life of lesbians from somewhere else than this dark hole. Italy is a place of dreams for many.

Almost midnight. I am in a trolley again looking out the window. Political billboards, posters on top of each other everywhere along the main streets. Sitting there with other tired people going home.... thinking of misery in the last nine years. How we shall get rid of the Killer? Many of us ask ourselves this question every day. 117 dinars. I could not cry. At Terazije, the very center of town, the trolley stop, I look out and see three people embracing each other's shoulders, standing very very close to each other, I look more carefully, one man has a cane for the blind, one woman has a dark glasses for the same reason probably. The door is still open and I hear a song. Embraced so tightly they were singing in low voices. How tender and simple, the juices of my body have massed themselves into almost a tear.

Walking after the trolley ride I marked more neighborhood walls with women's stickers. Images of today in my eyes. Frightened face of one of the women in the Center when the perpetrator was screaming outside the door. Around me many cars are parked and half of them are not used. People who had salaries of about $500 ten years ago now have $50. Hands tearing six kilos of bread. I remember, the day before one middle-aged woman came into the Center and told us how her son took her dog and hit him to the wall in front of her many times until the dog was dead. Then he turned to her and told her she will end like the dog if she does not obey him. It is Dorcol where I live, old part of town, small streets, calm midnight. Give me a knife. I remembered Dorothy Allison when she wrote how she will tell us the true story and it will be so unbelievable that she will have to spill blood in front of us in order to make us believe the truth.

Warm night. I still see the passers-by at the tram stop who were looking at a woman dressed in black, seeing a beggar in her. If one is named a dirty beggar, dirty lesbian, dirty madwoman, dirty Gypsy, dirty prostitute — is this the beginning of the war? When one names another human being the Other, which is disconnected from me, is this permission to pull a knife, a violent hand, a violent voice against her? Those named Dirty Others can be raped, spat upon, killed? The regime these days calls the political opposition "the traitors" and humiliates us daily. The cat crosses the dark street in front of me. Even a dog-of-the-Other is a Dog with a permission to be killed? Simone de Beauvoir said fifty years ago women are the Other, and she behaved as if she were not one. When I embrace the woman who wears many layers of blouses, are we both ourselves-in-dignity and not the Others-to-be-despised for each other? At least for a moment.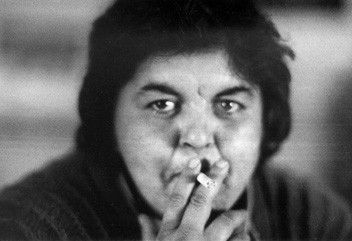 lepa mladjenovic
7th and 8th of September 2000
Belgrade